OCALA, FL — Lemek Tax Service, Inc., the predecessor to Andrews Lemek tax Services, LLC, was founded by Joyce Lemek in 1982. Since that time Joyce and her staff have delivered the finest tax and accounting services to thousands of clients in and around Marion County. Today the firm prepares more individual income tax returns than any other independently owned firm in Marion County. Lemek Tax Service was one of the first tax preparation firms in the County to offer electronic filing to its clients. In January 2008 Dan Andrews joined the firm and Lemek Tax Services became Andrews Lemek Tax Services, LLC.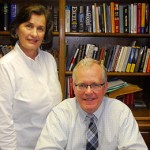 The firm continues the tradition of preparing complete and accurate tax and accounting work for individuals, small businesses, trusts, estates, and partnerships at fair prices. In addition to preparing income tax returns, the firm can help clients who want to set up a new business by consulting on the choice of the best entity to use, business structure, the best accounting system, corporation or LLC registration, establishing tax identification numbers, and sales tax and unemployment tax registration, consulting and training client personnel in computerized accounting systems such as QuickBooks, Peachtree, and others, assisting personal representatives in estate issues regarding taxes and finance, preparing income tax returns for estates, trusts, and partnerships, and other services.
Seniors can have special needs when it comes to the filing of their income tax returns. We recognize this and have tried to meet these needs by providing pickup and drop-off of income tax returns, when it is not possible for the client to travel to our office to have their return prepared. We also work closely with guardians, powers of attorney, and other family members to ensure that the needs of the client are met.
Andrews Lemek Tax Services staff are very experienced. No one has less than 10 years' experience. Most have more than thirty years' experience. The IRS has just recently mandated a certain amount of training and competence for tax preparers. For years our staff have received regular training in the latest tax laws and thus have exceeded the IRS's requirements for tax preparer training. Furthermore we have two IRS Enrolled Agents and one Certified Public Accountant on our staff, all of whom must meet biannual training requirements.
Most of our clients have been clients for many years and entrust their work to the same staff year after year. Our staff live and work in the community, are raising families here, and have a vested interest in the success and prosperity of its residents.
How can we help you ? Call (352) 388-1351 today.