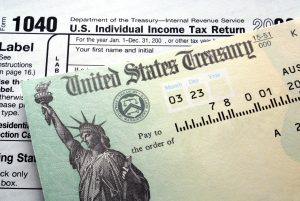 The IRS has pushed back the dates it will begin issuing refunds for some filers. For example, if you claim the Earned Income Tax Credit, which is a refundable tax credit for low to moderate income working individuals and couples, particularly those with children, the IRS will not begin processing your return until February 15. In other words, most won't receive their refunds until about February 27 at the earliest, and that's if you filed electronically with direct deposit for your refund.
The IRS wants everything filed electronically. In order to receive any refund quickly, set up direct deposit for your refund. This is the fastest method to file and you should see funds deposited within two weeks if there are no problems with your return. E-filed returns with mailed refunds will take three weeks and paper-filed returns with mailed refunds will receive refunds after five weeks. This isn't guaranteed, but it gives you an idea of the time frame involved.
Our advice is to make sure your return is done right the first time. Mistakes cause delays, and if you receive letters concerning errors in your return, you are on your own to answer. At Andrews Lemek, we stand behind our work. If you receive an IRS letter about your return, we are available to respond to it for you.
If you want someone dedicated to get your return done right the first time, someone who will be available after tax season to help you plan for next year's taxes and who will stand behind their work, call Andrews Lemek today! Phone: (352) 351-8833.